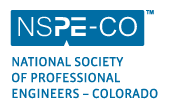 2022 Bridge Building Competition
Specifications for the 2022 Competition have been announced! Please note, the 2022 Bridge Building Competition will be held virtually on Saturday, March 5, 2022.
About Bridge Building:
The annual Model Bridge Building Contest is a statewide program aimed at providing interaction and communication among practicing engineers, high school students, and other professionals. Its underlying objectives are to enhance the appeal of engineering careers to high school students, begin establishing their relationships with the professional community, and improve the prospects that such careers will be mutually beneficial to both society and the individual.
The top winners from each region in the state competition are eligible to advance to the International Contest. A student from Parker, Colorado took first place in the International competition and received a four year scholarship to the Illinois Institute of Technology! For more information on the International Contest, see the National Bridge Contest link.
Questions & Answers will be posted as they are received.
Question: Who is eligible to participate?

Any high school or junior high school student may enter one model bridge for individual competition. Teams of students may construct bridges, but only one student may be listed and recognized as the entrant. ONLY ONE STUDENT PER BRIDGE IS ELIGIBLE FOR PRIZES.
Question: Is a school limited on numbers of entries?
There is no limit to the number of official bridge models that may be entered from any one school. The winners of the school team competition will be determined by the average of the three highest efficiencies of official entries of that school.
Mailing Address for Bridges:
Bridge Building Contest, ATTENTION 86-68530
Bureau of Reclamation
P.O. Box 25007
Building 67, Room 152
Denver Federal Center
Denver, CO 80225-0007
Each bridge must have the students name and school clearly printed in ink on the bridge. All mail-in bridges must have a tag firmly attached to the bridge with the following information clearly printed in ink:
Student's name
Student's email address
Student's phone number
Name of the sponsoring teacher (if any)
School name
City in which school is located
School return address
Specify Region (1 or 2)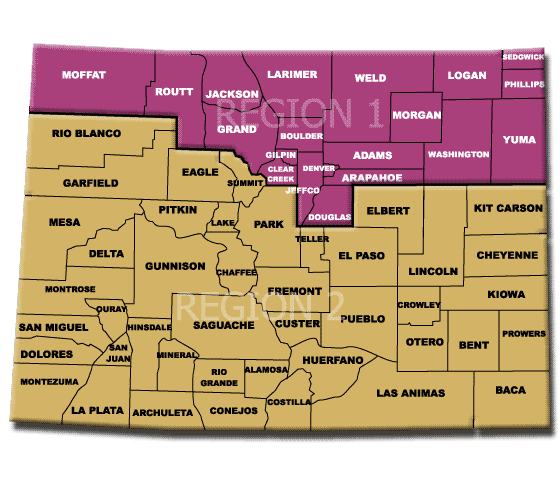 Please indicate if you would like your bridge and contest related documents returned
Mail-in entries will be returned to the student along with any contest related documents if indicated as such on the information tag.
First Place Winners in both Region I & II receive500 cash/check, and a $1,500 College Scholarship valid for enrollment in an accredited Engineering program. Scholarships provided by the NSPE-CO Education Foundation and the ACEC Foundation.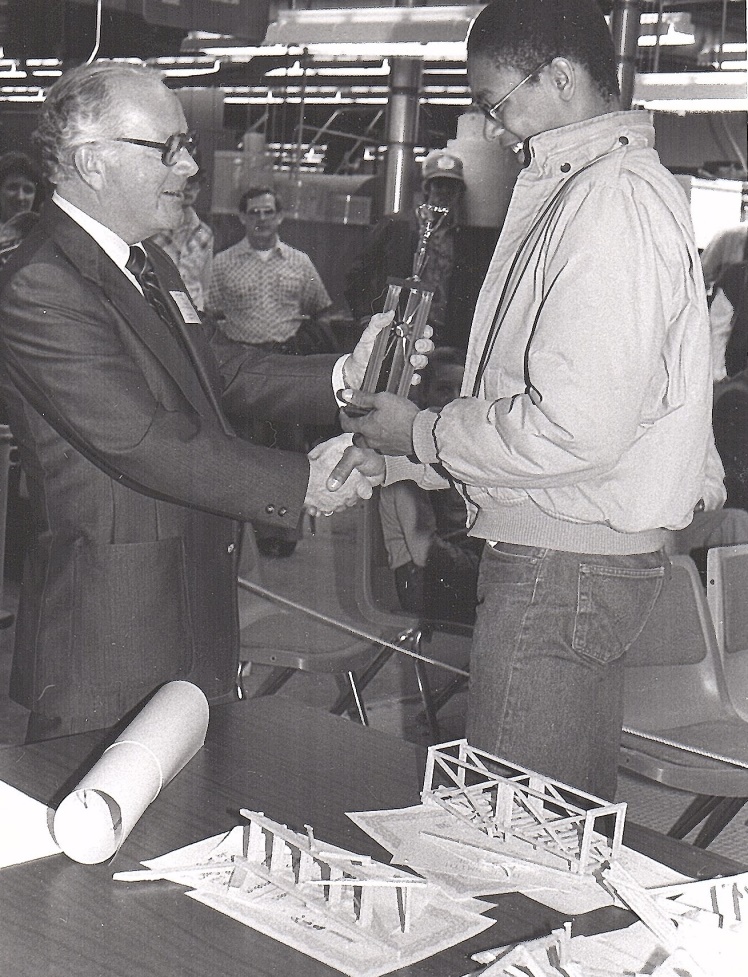 The Colorado Bridge Building Competition celebrated the 50th anniversary in 2017 and we dedicated the event to longtime supporter of Bridge Building, Gene Burdick (pictured on the left presenting an award in 1986). We also initiated a The Gene Burdick Memorial Fund in support of Bridge Building.